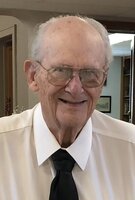 Leo Melvin Schoonover
Leo Melvin Schoonover, age 85, passed away on Thursday, May 26, 2022, at the Scott County Hospital in Scott City, Kansas. He was born on September 20, 1936, in Scott City. Leo was the son of Melvin & Genevieve Rictor Schoonover. Leo was a lifetime resident of Scott City, Kansas.
Leo was a shoeshine boy at Chick's Barber Shop early in his life. Later he was a Linotype operator at The News Chronicle newspaper in Scott City. He later owned and operated Schoonover Printing in Scott City from 1974 until retiring in 2006. Leo enjoyed deer hunting with his uncles, bowling with his friends, fishing with his kids, and camping with the family. He was a member of the First Christian Church in Scott City, KS.
On June 18, 1971, he married Marlene Smith in Scott City, Kansas. She passed away on July 24, 2019, in Scott City, Kansas.
Survivors include his Son - Doug & his wife Vonnie Schoonover of Vero Beach, Florida, His Daughter - Kaye Schoonover of Colorado Springs, Colorado, Two Sisters - Verda Dietz of Hays, Kansas, and Letha Williamson of Baldwin City, Kansas, One Granddaughter - Lexy Schoonover of Sunrise, Florida, One Grandson - Alex Schoonover of Fort Collins, Colorado,
He was preceded in death by his parents, and his wife - Marlene.
Memorial services will be held at 11:00 a.m. Saturday, June 11, 2022, at the First Christian Church in Scott City, Kansas, with Garee Geist-Smith Licensed Minister Christian Church (DOC) presiding.
There will be no calling times.
Memorials may be written to the Scott County Library in care of Price & Sons Funeral Home, PO Box 553, Scott City, Kansas, 67871.
Inurnment will be in the Scott County Cemetery in Scott City, Kansas.